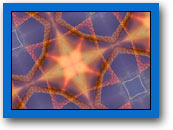 PhotoEchoes is a computer Kaleidoscope that generates beautiful and inspirational images based on your pictures.
It runs as a stand-alone program and it can also be set as your screensaver.
The program will use your collection of photographs (from the folders you choose) and pick images randomly. It will process the images to enhance them and project the result on screen in multiple animated reflections.
Discover inspiring new colors, patterns, shapes, cuts and more from your pictures! Endless mandala generator, it ads random to your image art, then just relax and let synchronicity happen.
See it by yourself with the free trial download:
Download PhotoEchoes kaleidoscope
The PhotoEchoes kaleidoscope program has features to capture and save at high resolution the images it creates either to a file or directly as the Desktop Wallpaper. PhotoEchoes can produce seamless tileable patterns nice also as web page backgrounds. The resulting images are totally exclusive, never repeated. Here is a gallery with many samples.
A great source of relaxation at your computer.
Intuition boost, right brain stimulation, chillout animated images with music.
Random aesthetic events provoke intuitive associations and ideas
Never-ending mandalas in motion

Some video clips captured from the program:

The background outside this frame was created by the program. Refresh to change. See also the gallery of samples