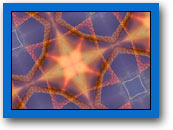 Download PhotoEchoes kaleidoscope
File size: 1.89 Mb.
Program version 3.11.1
Minimum system requirements:
- Windows XP / Vista / Win7 / Win8 / Win10
- A collection of pictures of any kind stored in your disk.
- 1 GHz. CPU or higher
- DirectX 7 or higher (it comes already installed on Windows)
- Windows media player for background music
---
Download and install instructions:
Click the download link above. Your internet browser will ask "What would you like to do with this file?, Run it or Save it to disk", choose save to disk. Then it will ask at what place do you want it saved, choose any folder on your disk and remember what you choose (the Desktop is a good choice). The download will start. When it completes you just need to run the downloaded file (double click it) and follow the instructions on the screen.